国立民族学博物館現代中東地域研究拠点は、大学共同利用機関法人人間文化研究機構のネットワーク型基幹研究プロジェクト地域推進事業の一つ現代中東地域研究推進事業の中心拠点として、2016年4月に国立民族学博物館に設置されました。
現代中東地域研究推進事業では、「地球規模の変動下における中東の人間と文化―多元的価値共創社会をめざして」を全体の研究テーマとし、本拠点では「中東地域における文化資源の現代的変容と個人空間の再世界化」を研究テーマに掲げ文化資源の問題系をめぐる研究活動を行っています。
中東を基点として広がる世界では、生身の個人が経験する未知なる人・場・情報との遭遇こそが、世界を形成・構想するうえでの根幹と見なすことができます。流動する諸個人が暫定的に構築してゆく場の継起・累積から、いかにして社会を構想していくのかをめぐって、文化知識の資源化という側面から検討し、個人が織りなす世界の特質を解明しようとしています。そして現代的諸問題を解決するための基盤形成のために、(1)個から世界への視点による他者観と、(2)社会的心性としての世界観にかかるサブプロジェクトを連携させながら、文化の資源化プロセスについてアプローチしています。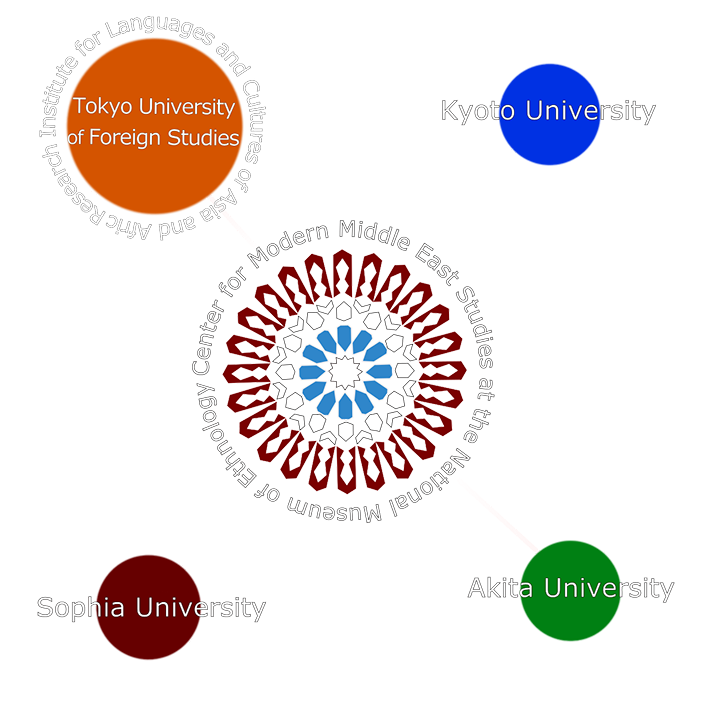 The Center for Modern Middle East Studies at the National Museum of Ethnology was established in April 2016 as a central hub to coordinate the Collaborative Network-based Projects for promoting area studies funded by the National Institute for the Humanities (NIHU). The core research theme of the NIHU Area Studies Project for the Modern Middle East is "Towards a Pluralistic and Multi-Valued Society: People and Cultures of the Middle East in the Age of Global Change."
As part of this larger framework, our center focuses on the topic of "The Transformation of Cultural Resources and the Reconfiguration of the Personal Sphere in the Modern Middle East." Personal encounters with unknown people, places, and information play an important role in shaping the life-worlds of those who live in the Middle East. We try to clarify the attributes of this personal sphere: 1) where does the boundary between the personal and the public lie? 2) how do personal spheres connect to form communities or world views? 3) in what ways do cultural resources reflect the reconfiguration of the personal sphere?
In the course of this 6-year project, we will send research missions, host foreign researchers, conduct international symposia, develop learning kits, plan exhibitions, and publish our results in collaboration with our partner institutions, Akita University, Sophia University, Tokyo University of Foreign Studies, and Kyoto University.