Special Exhibition "Local cultures assisting revitalization: 10 years since the Great East Japan Earthquake"
When:
2021年03月04日 – 2021年05月18日
all-day
Asia/Tokyo Timezone
2021-03-04T00:00:00+09:00
2021-05-19T00:00:00+09:00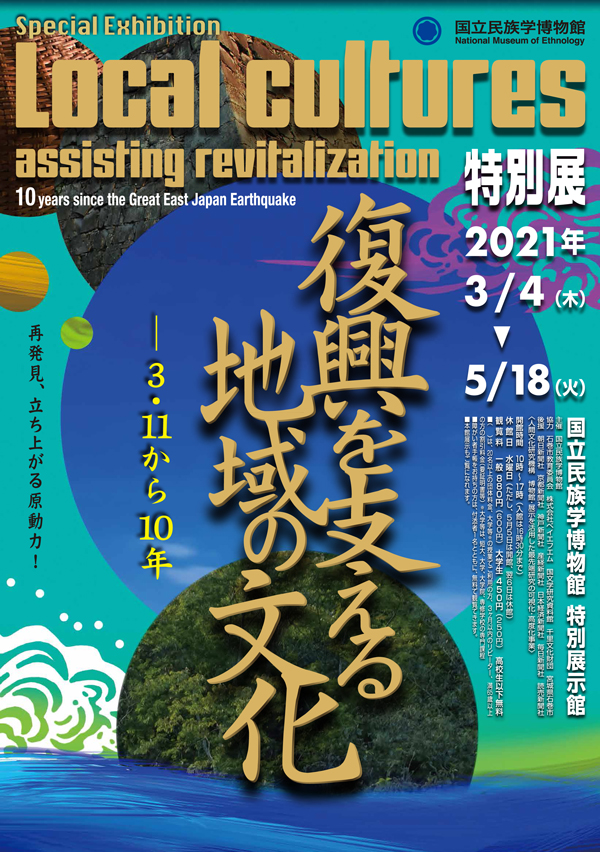 | | |
| --- | --- |
| Location | The Special Exhibition Hall, National Museum of Ethnology |
| Exhibition Period | Thursday, March 4 – Tuesday, May 18, 2021 |
| Hours | 10:00 a.m. – 5:00 p.m. (Entry is permitted until 4:30 p.m.) |
| Closed on | Wednesdays |
| Presented by | The National Museum of Ethnology |
| Admission Fee | Adults ¥880 (¥600), and college/university students ¥250 (¥200), senior high school and elementary and junior high school students Free *Visitors can also view the regular exhibits. *We perform the some display substitute during the period. |
Admission fee
※ Those in brackets ( ) are discount charges for groups of more than 20 people, people of universities and the like* who use this facility as part of their classwork, high school students writing reports, repeat visitors within 3 months after the last visit, and people 65 years old and older (certification required).
* University students and the like include students of college, undergraduate, graduate, and vocational school students.
※ Admission is free for visitors with a disability certificate and also for one accompanying person.
※For college students and general visitors: please buy a museum ticket at the ticket windows of the Natural and Cultural Gardens. Ticket holders can pass through the garden at no charge.
※For high school students and younger to pass through the Natural and Cultural Gardens (paid area): tell the person at the window of the garden (center, west, or north entrance) that you are going to Minpaku and receive a pass.
※ When you are going to the Natural and Cultural Gardens (paid area), you should pay the admission fee.
※ You can buy tickets at major convenience stores all over Japan.
Shuttle Bus Service
The service is available on Saturdays, Sundays, and National Holidays between March 14(Thursday) and May 18 (Tuesday).
There is a shuttle service from Bampaku-kinen-koen Station on the Osaka Monorail Line to the National Museum of Ethnology during the exhibition period. Please use our shuttle bus service.
11 round trips per day ◆ The bus ride takes 10 minutes ◆ Free of charge
*may be temporarily unavailable when Expo '70 Commemorative Park holds an event.
The service does not run on weekdays and, April 29,May 1,2,3,4,5,8,9
▪More details can be found here.
Exhibition Guide
Following the Great East Japan Earthquake of 2011, which caused unprecedented levels of damage, 'local culture' received a lot of attention as the driving force behind reconstruction.
Local culture is the living environment shaped by adaptation to the climate and natural features of the land, the history accumulated by generations of people living on the land, and the whole of life that is in turn created by this living environment and history – in short, the memories and life inherited and passed on within a region.
Local culture is passed on in various tangible and intangible forms, and is connected to the emotions and milestones in the lives of the people who inhabit that region. It fosters a rich humanity and creativity, and because of this, local culture can play a key role in supporting reconstruction following a disaster.
However, the existence of local culture is often taken for granted and barely even noticed in everyday life. Indeed, with the huge changes that modern society has been undergoing, it is under constant threat of being forgotten about altogether.
Ten years on from the Great East Japan Earthquake, this exhibition looks back with fresh eyes at the local cultural activities that have supported the reconstruction effort, and considers the importance and succession of local culture, which forms the foundation of an enriched society.