The International Symposium of Minpaku Special Project "Global Area Studies: Towards a New Epistemology for Mapping the Globalizing World"
When:
2023年03月11日 @ 10:00 – 2023年03月12日 @ 17:30
Asia/Tokyo Timezone
2023-03-11T10:00:00+09:00
2023-03-12T17:30:00+09:00
Where:
Meeting Room 1, National Museum of Ethnology, Osaka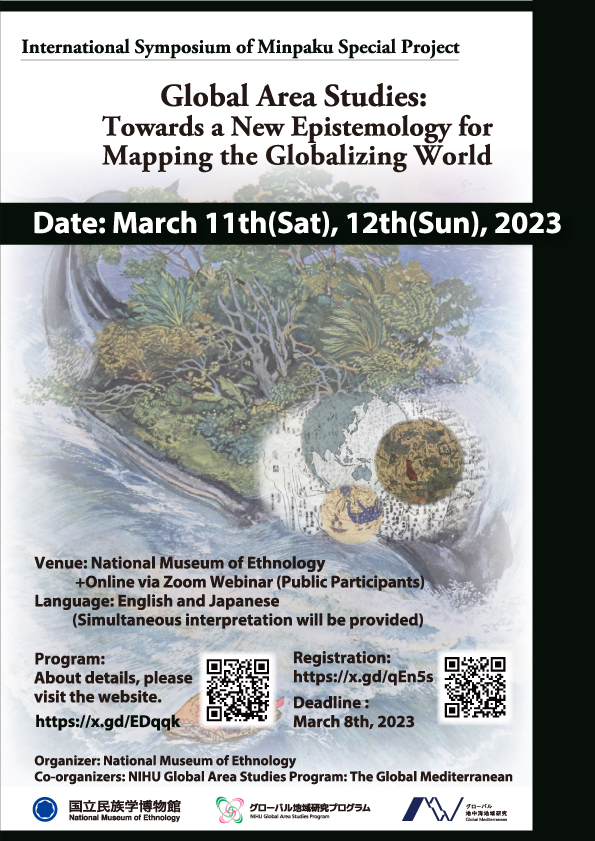 Global Area Studies: Toward a New Epistemology for Mapping the Globalizing World
Date
Saturday, March 11 – Sunday, March 12, 2023
Venue
Meeting Room 1, National Museum of Ethnology, Osaka
(Public participation is Zoom online only, Simultaneous interpretation is available)
Language
English and Japanese (simultaneous interpretation available)
Organizer
Global Area Studies: Toward a New Epistemology for Mapping the Globalizing World
Cosponsership
NIHU Global Area Studies Program: The Global Mediterranean
Registration
Registration Form 

Until March 8(wed) 2023

Inquiry
E-mail:gassympo2023[at]gmail.com
(Please replace [at] with @)
Purpose
In troubled times, fantasies become popular. They did so during the French Revolution and after the Great Kanto Earthquake of Japan in 2011. This probably also applies to the present day and the widely popular Kimetsu no Yaiba (Demon Slayer) anime series. A French translation by Antoine Galland of the Arabian Nights was published in 1704-1717, but it is believed that the original text, which did not include the famous tale of Aladdin, was based on narration by a Maronite Christian in Syria. In Japan, Mt. Fuji went into violent eruption in 1707, releasing ash into the atmosphere. In the following year, a famine and social anxiety appeared in Syria, and the Maronites, who represented French interests, sought protection from King Louis XIV, dispatching the above-mentioned Maronite to Paris. In France, a wave of extreme cold weather claimed many deaths. We don't know exactly how Galland met the Maronite, perhaps by chance, and how the tale of Aladdin as a fantasy was written – prompting the birth of children's literature, which soon helped form modern ethical views. Nevertheless, we can suggest that a succession of interrelated events linked macroscopic environmental changes to microscopic states of the human mind or mentality.
In 2020 we experienced phenomena that fundamentally shook the connection between individuals and their community in the global society. The practices of individuals transcended local communities and national systems and had direct impacts on global society, causing global society and individuals to confront each other. I must emphasize the need for global area studies to grasp the real facts of global society in terms of how they were felt intuitively by people. Practical studies to solve today's problems of the global environment are complicatedly interrelated in temporal, spatial, and cross-sectional terms. We need to build a model of linkage between environment and mentality that replaces the previous Cartesian analytical model that positions society, regions, and the world around or external to individuals. The new model should elucidate culture, civilization, and the world as a system of relations and values that encompasses individuals.
The global (and digital) environment transcends geography and the natural, social environment, and former mass media environments. It transcends the space created by human beings as individuals in their interactions with nature, in the living space in which natural resources and cultural resources are connected and involved, in the social space along the edge of the living space in which regional characteristics and civilizational values are involved. It also transcends the global-area-conscious space that exists along the edge of the social space. All these relations must be recognized to map the present global society. We can recognize the relationships between social and economic systems, and between natural and ecological systems, as a system of problems related to relationships between the environment and the universal cognitive system of human beings.
More broadly speaking, a role to be played by the study of humanities in the future is to depict a vision of the future from an integrated point of view. How are we going to build a forum of academia and society as a space to think together about globalization, global society and environmental change? How can or should we as individuals be involved in co-creating a global society?
Program
March 11 (Saturday), JST (GMT +9:00)
10:00 – 10:05
Welcome Speech by Tetsuo Nishio (Project Leader, National Museum of Ethnology)
10:05 – 10:15
Opening Remarks by Kenji Yoshida (Director-General, National Museum of Ethnology)
10:15 – 12:15
Panel Session 1: Global China
Introductory Speech by Masashi Nara (Session Facilitator, National Museum of Ethnology)
Presenter:
Noriko Unno (Waseda University)
"Sino-Muslims and the Ottoman Empire in Early Twentieth-century China"
Alessandro Rippa(University of Oslo)
"Thinking through amber: Global China and area studies"
Yukihiro Kawaguchi (Tohoku University)
"Great Wall in Nigeria: Cleavage and transaction between Chinese immigrants and local merchants"
Discussant: Masashi Nara
12:15 – 14:15
Lunch
14:15 – 16:15
Panel Session 2: Mobilities and Connectivity to Global space in Modern and Contemporary Iran
Introductory Speech by Kenji Kuroda (Session Facilitator, National Museum of Ethnology)
Presenter:
Kenji Kuroda (National Museum of Ethnology)
"Transportation, Hinterlands, and Intermediaries in Early 20th Century"
Mikiya Koyagi (The University of Texas at Austin)
"Infrastructural Networks in the Indo-Afghan-Iranian Borderlands"
Atsuko Tsubakihara (Ryukoku University)
"Destinations and Tastes of Japanese Porcelain"
Discussant: Tomoko Yamagishi (Meiji University)
16:15 – 16:30
Break
16:30 – 17:30
1st Day Concluding Speech and General Discussion
Tetsuo Nishio (National Museum of Ethnology)
"From Global Area Studies to Global Humanities for Co-creating Global Societies"
March 12 (Sunday), JST (GMT +9:00)
10:00 – 12:00
Panel Session 3: South Asian Diasporas and Diverse Connectivity: Mobilities, Representations, and Values
Introductory Speech by Yoshiaki Takemura (Session Facilitator, National Museum of Ethnology)
Presenter:
Nisha Mathew (Mahindra University)
"A City, Migrants and their Cosmopolis of Glitter"
Yoshiaki Takemura (National Museum of Ethnology)
"Questioning from Underfoot and Across the Shore: Re-evaluating and Re-contextualizing the Hereditary Dancing Community on Classical Dance in South India"
Discussant: Aya Ikegame (Kyoto University)
12:00 – 14:00
Lunch
14:00 – 16:00
Panel Session 4: Colonial Encounters and Post-Colonial Present
Chair: Naoko Shimazu (Asia Research Institute, NUS / Yale-NUS College)
Presenters:
Hatsuki Aishima (National Museum of Ethnology)
"Introduction: Aesthetics of Body and Power in Egyptian Karate"
Lucy Riall (European University Institute) / Christian Goeschel (University of Manchester)
"The Italian and German Empires: Latecomers or Pioneers?"
Benjamin Soares (University of Florida)
"Excavating Contentious Muslim-Christian Encounters in West Africa"
16:00 – 16:30
Break
16:30 – 17:30
2nd Day Concluding Speech and General Discussion
Hideaki Suzuki (National Museum of Ethnology)
"How Can We Map the Globalizing World: A Perspective from Global History as One of the Many Ways"