Arte Popular ― Contemporary Expression of Mexican Crafts
When:
2019年10月10日 – 2019年12月24日
all-day
Asia/Tokyo Timezone
2019-10-10T00:00:00+09:00
2019-12-25T00:00:00+09:00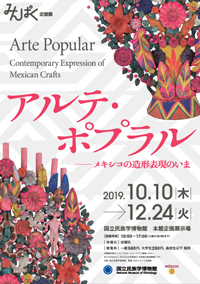 In Mexico, Mesoamerican civilization flourished in the prehispanic era, and various cultures came from Europe, Asia and Africa after the 16th century. As a result, a unique expressive culture was formed. Arte Poplar is not a work of artists who are blessed with special talent, but a generic term for artistic expressions by craftsmen and the general public. This exhibition shows a variety of Arte Poplar in Mexico today, such as ceremonial masks, yarn paintings, ceramics, and trees of life that are typical Mexican Arte Popular, as well as skeleton figures inundating in Mexican streets.
Exhibition Period: Thursday, October 10, 2019 – Tuesday, December 24
Location: Thematic Exhibition Hall, National Museum of Ethnology
Presented by the National Museum of Ethnology
PR Assistance Embassy of Mexico in Japan