Performing Arts and Conviviality
Theme Category:Humans 5. Minorities and coexistence
Project Period:April 2018-March 2023
Purpose and content of the project
Coexistence can be divided into two types: "passive coexistence," in which discrimination is not apparent but aversion and prejudice continue between the groups concerned, and "active coexistence (conviviality)," in which cultural characteristics and differences are mutually recognized and respected. This project aims to explore the roles that performing arts could play to realize "conviviality" as well as to measure their ability to do so. The term "performing arts" used here refers to a wide range of artistic activities expressed on and through bodies, including music, dance, theatre, as well as museum installations. Performing arts are considered to affect sensory perception and as a way of thinking beyond (or differently from) the mode of visually oriented recognition, through the medium of bodies. It has been reported that performing arts can affect human emotions greatly. On the other hand, it is also true that this quality of the performing arts has been used to promote intolerant nationalism, racism, and sexism. This project seeks to explore frameworks and conditions for performing arts to contribute to "conviviality" by gathering and comparing specific projects undertaken in various situations.
Human beings are generally grouped on the basis of various attributes and markers, such as race, religion, language, political convictions, economic strata, age, gender, and sexuality, regardless of groups' size and area. The power tends to be distributed unequally among those groups divided as such. The culture and history of groups in an inferior position (minorities) are highly likely to be excluded from public education and the cultural representation of the nation or area where they live. Although a number of cases have been reported about minorities turning to performing arts for self-expression and self-assertion, there is scanty research about the relationship between performing arts and coexistence, and even if there is any, it is conducted in very limited area. This project aims to be a comprehensive research by treating performing arts as a specific measure to realize conviviality in collaboration with researchers and activists working for relevant projects around the world.
Anticipated results
In modern society with the world-wide rise of racism and particularistic sentiment, the coexistence of groups and individuals with diverse backgrounds and beliefs is one of the most urgent issues. This project focuses on performing arts, to which little attention has been paid in the study of coexistence, and identifies their potential in achieving a convivial world; it aims to arrive at specific clues for such coexistence. The project will promote cooperation between research institutes and NGOs inside and outside of Japan to further deepen the research on this theme. The project outcome will be shared globally at international symposia, performances and publications.
Minpaku Public Lecture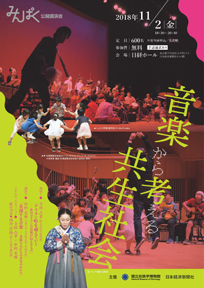 Download[PDF:1.2MB]
(Japanese only)
November 2(Friday), 2018, 18:30 to 20:40
Minpaku Public Lecture:
Music and a Convivial Society
Venue Nikkei Hall
Program
General MC: KAWAI Hironao (Associate Professor, National Museum of Ethnology)
| | |
| --- | --- |
| 17:30 | Opening |
| 18:30 | Opening address/ NISHIJIMA Hironori (Nikkei, Inc. & Editorial Bureau Chief, Osaka Head Office) |
| 18:35 | Greeting/ YOSHIDA Kenji (Director-General, National Museum of Ethnology) |
| 18:40 | Overview and Lecture 1/TERADA Yoshitaka (Professor, l, National Museum of Ethnology) |
| 19:15 | Lecture 2/ NAKAMURA Miwa (Associate Professor, Graduate School of Design, Kyushu University) |
| 19:50 | Break |
| 20:05 | Panel discussion/ TERADA Yoshitaka ×NAKAMURA Miwa ×KAWAI Hironao |
| 20:40 | End |
International Symposium
The International Symposium, which was scheduled to be postponed to March 2022, has been cancelled.
Some of the scheduled sessions will be held as online meetings as follows. Please refer to each link for details.
Inaugural Online Meeting
9am-11am, Saturday, March 6 (Japan time, GMT+9) ▶ Details
Second Online Meeting
11am-1pm, Monday, June 7 (Japan time, GMT+9) ▶ Details
Third Online Meeting
9pm-11pm, Monday, September 20 (Japan time, GMT+9) ▶ Details
Fourth Online Meeting
13:00-15:00, Sunday, December 12 (Japan time, GMT+9) ▶Details
Fifth Online Meeting
10:00-12:00, Monday, March 21 (Japan time, UTC+9) ▶Details
Sixth Online Meeting
10:00-12:00, Sunday, April 17 (Japan time, UTC+9) ▶Details
Seventh Online Meeting
10:00-12:00, Sunday, May 22 (Japan time, UTC+9) ▶Details