Staff Members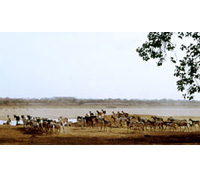 MISHIMA Teiko
Associate Professor
Center for Cultural Resource Studies
| | |
| --- | --- |
| Research Specialization | Anthropology, international migration; Senegal, West Africa |
| Individual Research Projects | A Theoretical Study on the Plural Significance of Ethnic Culture-From the Transformation of Merchant Migrants society |
Academic Qualifications:
L.Soc. École Nationale d'Économie Appliquée du Sénégal 1989
M.A. Tsuda Coll. 1992
M.Soc. Univ. of Paris V 1992
D.E.A.Soc. Univ. of Paris V 1993
Research Topics:
Migration of Soninke People and Rural Development
Recent Research Interests:
Soninke people have a permanent residence around the Senegal River in West Africa since the 12th century. They were living on the trans-Sahara trade before European invasion. During the 18th and 19th century, they had a commerce with European merchants. That contributed to the transatlantic trade. Since a last half of 20th century, Soninke became migrants in France as a manpower for the after war development. Today, they spread their migration area into Asia and they began a trade between Asia and Africa. The merchandises made in Asia, as necessaries of life and mechanical apparatus, are sold in Africa market through the ethnic and family network. . At the same time, immigrants invest together for the rural development of their village. School, dispensary, mosque, warehouse for cereals, and market are constructed in each village where we find the immigrants. Migration is considered as an ethnic culture of Soninke society in every period and establish a stability in the original land by making a economic feedback.
Geographical Areas of Interest:
West Africa, Senegal, rural development, international migration
Discipline:
Anthropology of social development
Publications:
Presentations:
| | |
| --- | --- |
| 2004 | Why Do People Migrate? MINPAKU Anthropology Newsletter 19: 9–10. |
| 1997 | "Strategies familiales face aux changements agricoles et migratoires en milieu Soninke." Colloque Jeunes Chercheurs, INED, Paris, France. |