Minpaku Collections Help Desk
The desk will accept inquiries concerning ethnological items in the National Museum of Ethnology's collection.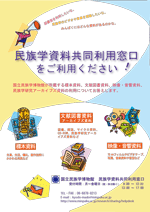 Items available
(1) Artifacts
(2) Books and periodicals
(3) Audio-visual materials
(4) Ethnology Research Archives items
The Help Desk can assist you in the following ways.
(1) Access to books and periodicals
(2) Copies of books and periodicals
(3) Access to audio-visual materials (including Videotheque Program)
(4) Loans of artifacts (restricted to cultural institutes for exhibition only)
(5) Other loans
a. Loans of artifacts for still photography, for film, TV or video shooting, or for close examination for research
b. Loans of negatives or prints
c. Loans of replicas for display
Some items may be borrowed for educational purposes only.
Charges may be incurred for (2) and for some cases of (5).
Since inquiries may need to be forwarded to one of the research sections for approval, a response may take several days.
For using the items, please follow the regulations of the Museum.
Minpaku Collections Help Desk
Monday-Friday 9:00 a.m. – 12:00 p.m., 1:00 p.m. – 5:00 p.m.
(excluding national holidays, and from December 28 until January 4 for the year-end and New Year period.)
FAX: +81-(0)6-6878-8213
Online inquiry form
National Museum of Ethnology Office of Information and Documentation
Attention: Minpaku Collections Help Desk
10-1 Senri Expo Park, Suita, Osaka 565-8511 Japan
* For a response by mail, please enclose a stamped and addressed return envelope.