Special Exhibition "100 Years of Mongolia: Encounters through Photography"
When:
2022年03月17日 @ 10:00 – 2022年05月31日 @ 17:00
Asia/Tokyo Timezone
2022-03-17T10:00:00+09:00
2022-05-31T17:00:00+09:00
Where:
The Special Exhibition Hall, National Museum of Ethnology

Exhibition Period
Thursday, March 17 – Tuesday, May 31, 2022
Location
The Special Exhibition Hall, National Museum of Ethnology
Hours
10:00 a.m. – 5:00 p.m. (Entry is permitted until 4:30 p.m.)
Closed on
Wednesdays (*Note that the museum is open on Wednesday, May 4 and closed on Friday, May 6 instead)
Presented by
the National Museum of Ethnology
Admission Fee
Adults ¥880 (¥600), and college/ university students ¥450 (¥250), senior high school and elementary and junior high school students Free
* Visitors can also view the regular exhibits.
* Those in brackets ( ) are discount charges for groups of more than 20 people, people of universities and the like* who use this facility as part of their classwork, high school students writing reports, repeat visitors within 3 months after the last visit, and people 65 years old and older (certification required).
* University students and the like include students of college, undergraduate, graduate, and vocational school students.
* Groups of 20 or more university students are eligible for the discounted exhibition admission rate (¥200 for university students).
* Admission is free for visitors with a disability certificate and also for one accompanying person.
* For college students and general visitors: please buy a museum ticket at the ticket windows of the Natural and Cultural Gardens. Ticket holders can pass through the garden at no charge.
* For high school students and younger to pass through the Natural and Cultural Gardens (paid area): tell the person at the window of the garden (center, west, or north entrance) that you are going to Minpaku and receive a pass.
* When you are going to the Natural and Cultural Gardens (paid area), you should pay the admission fee.
* You can buy tickets at major convenience stores all over Japan.
 ▶ Details
Shuttle Bus Service

There is a shuttle service from Bampaku-kinen-koen Station on the Osaka Monorail Line to the National Museum of Ethnology during the exhibition period. Please use our shuttle bus service.


* The service is available on Saturdays, Sundays, and National Holidays between March 17(Thursday) and May 31 (Tuesday).
* The service does not run on April 23, 24, 29, 30 May 1, 3, 4, 5
* 11 round trips per day/ The bus ride takes 10 minutes/ Free of charge
* may be temporarily unavailable when Expo '70 Commemorative Park holds an event.
 ▶ Details [in Japanese]
Exhibition Guide
Special Exhibition "100 Years of Mongolia: Encounters through Photography"
Mongolia today and 100 years ago as seen through photos: An encounter with a new image of Mongolia awaits
The National Museum of Ethnology, or Minpaku, will be holding a special exhibition entitled "100 Years of Mongolia: Encounters through Photography" in the Spring of 2022. This exhibition presents social and cultural change in Mongolia through photography.
Over 100 years ago, Mongolia was photographed by explorers, ethnographers and other visitors curious about the practice of nomadic pastoralism and fascinated by the unique city of its capital, Urga (now Ulaanbaatar). At the beginning of the 20th century, Ulaanbaatar was a "holy city" under the rule of Bogd Khaan, who was the highest ranked reincarnated lama, as well as the emperor of the country. Let's take a look round this holy city, which was known by Westerners as Urga. In the center, you will witness the breath-taking sight of Bogd khan's Shar Ord, or Yellow Palace, with its rooftop covered in gold. Walking down to the market places, you will find people doing their shopping on horseback. These "exotic" images of Mongolia 100 years ago provide endless fascination.
By contrast, today's Ulaanbaatar is home to almost half the country's population, and has a tertiary economy bolstered by a steady flow of capital from the mining industry. The new symbol of the capital is a giant statue of Chinggis Khaan, which stands in front of the Government Palace. First-time visitors to the city are often surprised by the bustling urban life and high-rise buildings which are so at odds with their preconceptions of Mongolia. On the outskirts of the city, however, are sprawling areas known as "ger districts", where nomadic tents, or ger, are densely packed together.
The social and cultural change over the last 100 years is not only limited to the city, but also extends to the steppe. Although Mongolia is a country known for its steppe lands and nomads, only 9% of the current population are nomadic pastoralists. Sendetarization has been driven by modernization, as well as the rapid development of the mining industry, which started at the beginning of the 21st century. In addition, some nomads now make their living not only by herding, but also through tourism.
Whether in urban or steppe areas, the living world has seen a huge transformation through the socialist modernization of the 20th century and the transition to a market economy over the last three decades. This exhibition provides brand-new insights into Mongolia by comparing photographs which reflect the sensibilities of B. Injinaash, a talented contemporary Mongolian photographer, with photographs taken by explorers from other countries around 100 years ago. Here, at Minpaku, you will encounter a new Mongolia.
Related Event
Minpaku Seminar
"Contemporary Mongolia through the Eyes of B. Injinaash"
Date and Time:Saturday, May 21  1:30 p.m. – 3 p.m.
Place:Auditorium, National Museum of Ethnology * Online (live) streaming available
Lecturer:B. Injinaash (Photographer), MINATO Chihiro (Photographer; Professor, Tama Art University), KAWASE Itsushi (National Museum of Ethnology)
Host:SHIMAMURA Ippei (National Museum of Ethnology)
Pre-registration required/ Participation is free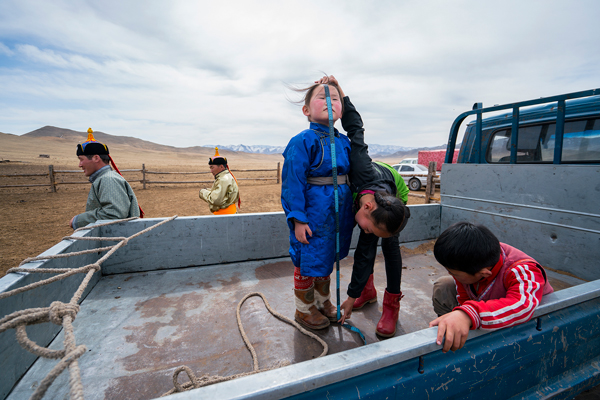 Minpaku Film Show
"Contemporary Mongolia and Hip Hop- Learning by the Documentary film "Mongolian Bling"
Date and Time:Monday, March 21  1:30 p.m. – 4:20 p.m.
Place:Auditorium, National Museum of Ethnology * Online (live) streaming available
Screened movie:"Mongolian Bling", 2012 (with Japanese subtitles)
Talk show
Lecturer:B. Binks (Director of screened movie), Gennie (Rapper), Hunger (Rapper), KAWASE Itsushi (National Museum of Ethnology)
Host:SHIMAMURA Ippei (National Museum of Ethnology)
Pre-registration required/ Participation is free (An exhibition ticket is required for participation at the venue)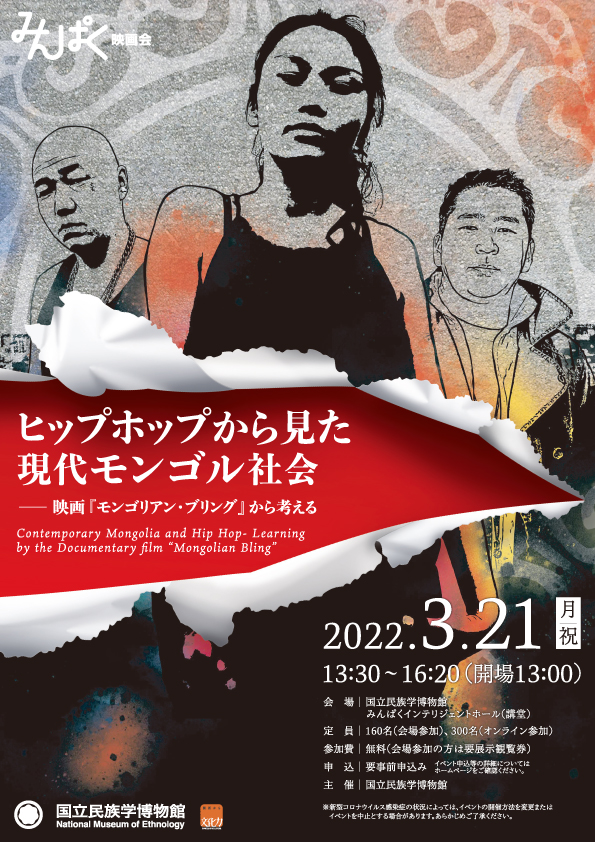 "Veins of the World"
Date and Time:Thursday, May 5  1:30 p.m. – 4:00 p.m.
Place:Auditorium, National Museum of Ethnology
Screened movie:"Veins of the World", 2020 (with Japanese subtitles)
Lecturer:KONAGAYA Yuki (Visiting Professor, National Museum of Ethnology; Auditor, Japan Society for the Promotion of Science)
Host:SHIMAMURA Ippei (National Museum of Ethnology)
Pre-registration required/ Participation is free (An exhibition ticket is required for participation at the venue)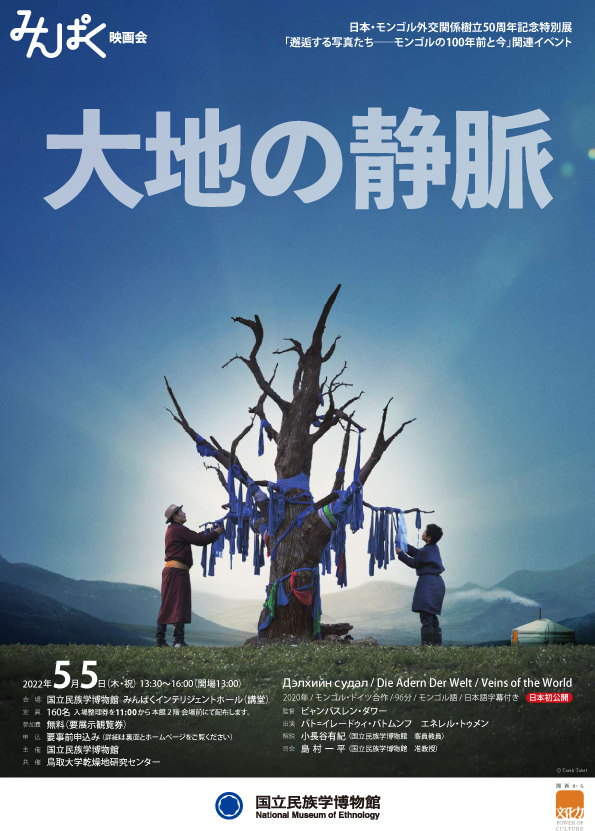 Special Lectures and Performances
"Rhyme Culture in Mongolia: From Oral Literature to Hip Hop"
Date and Time:Saturday, April 9, 13:30-15:45 

* Postponed

Place:Auditorium, National Museum of Ethnology * Online (live) streaming available
Perfomance:Sosorbaram (Actor), Desant (Rapper), Ikh Tatlaga (Morin Khuur Orchestra)
Host:SHIMAMURA Ippei (National Museum of Ethnology)
Pre-registration required/ Participation is free (An exhibition ticket is required for participation at the venue)
Minpaku Associates Lecture
"Mongolia and SDGs"
Date and Time:Saturday, April 2  1:30 p.m. – 3:00 p.m.
Place:Auditorium, National Museum of Ethnology * Online (live) streaming available.
Lecturer:KONAGAYA Yuki(Visiting Professor, National Museum of Ethnology; Auditor, Japan Society for the Promotion of Science), YAMAGIWA Juichi (Director-General, Research Institute for Humanity and Nature)
Pre-registration required/ Free for members, general admission ¥500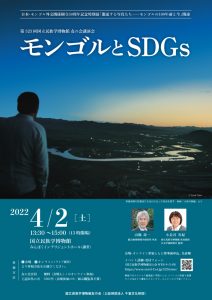 Minpaku Weekend Salon: A Chat with a Researcher
"100 Years of Mongolia – thinking through the traditional costumes"
Date and Time: Sunday, April 10, 2022, 2:30 p.m.–3:30 p.m.
Place: 5th Conference Room, National Museum of Ethnology
Speaker:SHIMAMURA Ippei (National Museum of Ethnology)
Up to 42 attendees/ Admittance by order of arrival/ Reservation not required/ Exhibition ticket required